Join us for our Saraswati Puja on 21st January, 2018 (Sunday)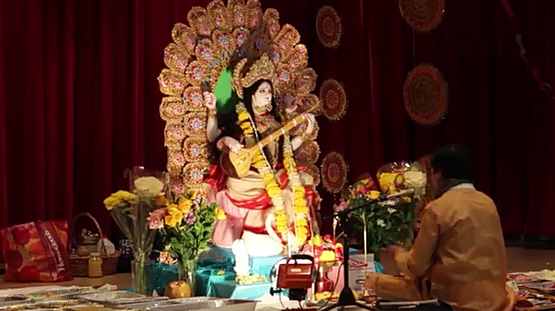 Dear Devotees,
On behalf of Adyapeath Kali Mandir (Adyapeath USA), located at 1190 Easton Ave, Somerset, NJ 08873, we are pleased to inform you, that this year we will celebrate the Saraswati Puja on Sunday, January 21st. The venue for the Saraswati Puja is at the Kiddie Keep Well Camp, 35 Roosevelt Dr, Edison, NJ, 08837.
Kiddie Keep Well Camp
35 Roosevelt Drive,
Edison, NJ, 08837

The Puja will commence at 11:00 AM. Upon completion of the Puja, like previous years, we will conduct some fun activities for children and parents.
For a successful day of activities, we request that parents of young children attend and have their children participate in any of the following activities:
Art competition
Poetry recitation
Bengali or English
Short address, speech or discussion on Ma Saraswati and the significance in our lives
Dance performance
Songs, in any Indian language and instrumental music
Please contact the temple at drsaeastonave@gmail.com or 732-249-7077 to sign up your child(ren) to participate in as many of the above.
For complying with safety regulations, we will follow the capacity guidelines as posted. The entry will be closed on reaching the stipulated capacity. The Registration is now open. We encourage you to register online now to be assured of an entry for Saraswati Puja celebration and help us plan better. Please review the suggested donation and sponsorship categories below.
You will receive an email from Paypal confirming your payment. Please bring the email with you printed or electronically. Registration is free with Puja Sponsorship below. On sponsoring you will be registered.
Click on the category below to Register:
| | | |
| --- | --- | --- |
| Adults (18 +) | $20 | |
| | | |
| Kids (5 +) | $5 | |
In order to defray expenses for the Pujas, we request the following sponsorship:
Click on the Puja Sponsorship(s) and add to your Puja cart.
| | | |
| --- | --- | --- |
| Sponsorship for fruits & flowers | $51 | |
| Sponsorship for Mahaprasad | $101 | |
| | | |
For other sponsorship(s) please contact our temple at drsaeastonave@gmail.com or 732-249-7077
Program
Raja Goswami of DRSA, USA, Adyapeath Kali Mandir, will perform the Puja
Puja Timing
| | |
| --- | --- |
| Puja jogar | 9:00 AM |
| Pushpanjali, Arati, Adyastab | 11:00 AM – 1:00 PM |
| Food & Prasad distribution | 1:00 PM |
| Kids activities | 1:00 PM to 4:30 PM |
NOTE: For your safety entry will be closed on reaching maximum capacity at the facility
We look forward to having you among us and making it another successful event. As always, we are looking for volunteers, who can assist us with many of the tasks. If you are interested in helping, please contact us again at drsaeastonave@gmail.com or 732-249-7077 and indicate your preference. Thank You,
Joy Maa, Adyapeath, USA

Share this...